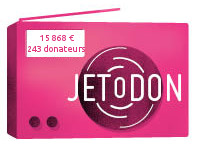 dimanche 18 septembre 2016
Dimanche 18 Septembre 2016 à 20h
Radia show 598 : Xylotheque by Eli Gras (radio Worm/Klangendum)
par Anne Laure
A 20h :
Radia show 598 : Xylotheque by Eli Gras for radio Worm/Klangendum (Rotterdam)
Eli Gras :
"I was kindly invited to do a residency at the Worm, for to develope a work related to the idea of a hypothetical psychology of furniture and a possible communication, sort of a language amongst them in relation with "the human world", that evolves and spreads to other household materials, resulting in a group of tracks trying to somehow express it with a certain narrative ; like an electroacoustic sounds theatre fantasy, close to music, but not totally music, it's in some way an "animistic" sound work.
I mounted it in between talking parts, forming sort of a little parody, almost a homage to the para-scientific radioplays, to prepare the listening mind and orientation of the concept, also explaining a little tale in order to add a 'language' touch to the bunch of absurdity that contains the edited work.
The sounds were taken from the Rotterdam city environment (hostel stuff, supermarkets, streets…), the Worm building (the rooms, furniture, synthesizers…), in Barcelona (houses of friends, parties, supermarkets…) Really every dot has a little history.
Credits :
Locutions : Jesús Brotons, Eli Gras.
Mastering : Albert Guitart (alb-estudi.com)
Thanks to :
Lukas Simonis and the Worm/Klangendum crew for the opportunity and patience, Ramon Faura for the rhythm pattern and to allow me to record his grandma's home objects, to Antoine Manent and Florenci Salesas for the extra ears.
A 20h30 : l'archive
Radia Show 298 : The Worm Radio Song Poem Radia Show
This show consists of a number of songs that were made by the Radio WORM Song Poem Crew at the STRP Festival in Eindhoven (november 2010). The theme was '80ties cassette culture' and the idea was that the audience could choose a genre from a menu, write a text, pay 3 euro's, and then the Radio WORM Song Poem Crew would make the song with 'original' 80ties gear (the most advanced device being a 4track cassette machine), hence the 'vintage' sound qualities of the pieces. The song was delivered within a short time (5 – 30 minutes) to the client on cassette tape. The available genres on the menu were ; Depressing Lo Fi Noise, Boring Art Shit, Early Happy Commodore, Gay Budget Beats, Industrial SM Love Songs, Echoïstic Melancholia Dub, Fucked Up Cassette Hardcore and Incredible Cheap Casio-Pop. There were 19 songs made in a few hours, the best of them you'll find here. Text subjects vary from ode's to leaving colleague's, the impossibilities of having a love affair where one lives in Eindhoven and the other in Amsterdam, Statements about Radio Art, a Monty Cantsin Neoist Song and lots of boring and horrible poetry. Enjoy !
People involved ; Lukas Simonis, Henk Bakker, Robert Kroos, Merijn van Ham, Joost Bult, Alexander van Straten, Annemarie Nijhof, Rik Den Dood